Why Lauterbrunnen is the Heaven On Earth, let's get to know!
It is not wrong to say that the actual beauty of a place lies in its village. The essence and aroma that a village offers is a way different then, a city life. In today's blog, we are going to talk about one such beautiful village in Switzerland. 

Lauterbrunnen is one of the finest villages located in the Swiss Alps Valley. In fact, you will be surprised by the fact that there are 72 waterfalls in this place. Yes, 72!!
So, this blog is about this magnificent beauty to help you know more about it and why you should plan your next visit here as soon as possible. 
What is the Meaning of Lauterbrunnen?
Do you know what the meaning of Lauterbrunnen is? 
Alright!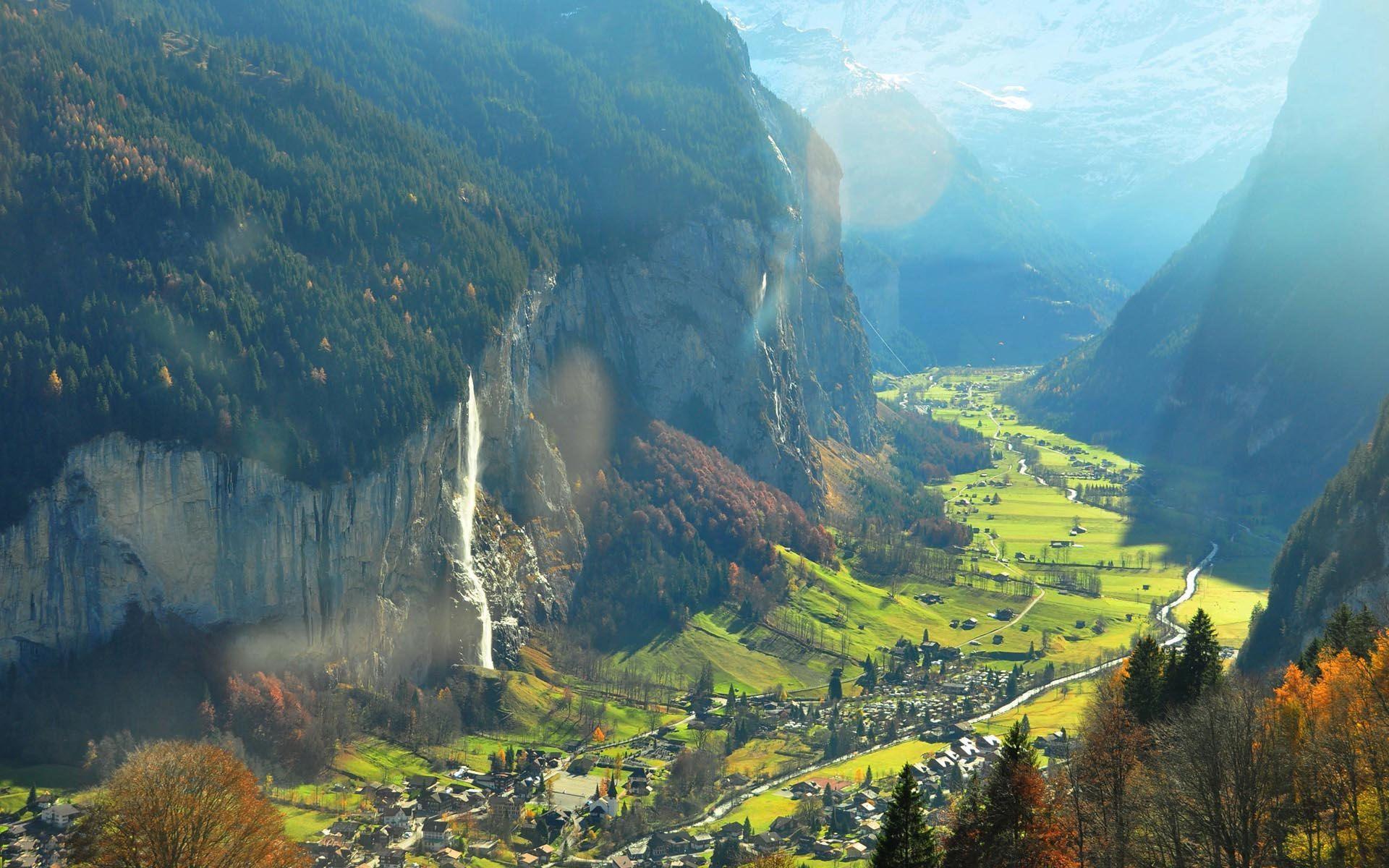 ''Lauter Brunnen'', the word means many fountains or many springs or you can say the land of fountains. This place has been named so for all the right reasons. You will be mesmerized by the magnificent beauty of this place. This place is not only known for its waterfalls but also for the stories related to this place. 
Johann Wolfgang von Goethe, the famous German writer, once came to this place. He was so deeply touched and inspired by the beauty and sound of the waterfall that he wrote poetry on it named 'Spirit songs of the waters'.
 Another interesting story about this place is that of Trummelbach Falls. Here, you will find ten glacial waterfalls inside the mountain. You can easily access this place from the tunnel lift. 
What you can do in Lauterbrunnen?
There are many things you can do and enjoy here. Yes, from an excursion to hiking you are going to get unforgettable memories for life. 
LAUTERBRUNNEN CLIMATE GRAPH // WEATHER BY MONTH
The driest month is March, with 69 mm | 2.7 inch of rain. The greatest amount of precipitation occurs in August, with an average of 129 mm | 5.1 inch.
Let's Explore the Village
The first thing you can explore here is the village itself. This village is filled with green fields, chalet-style houses; snow-filled mountains, and rock faces. You will feel like you are in paradise when you wake up in the morning and hear the sounds of water. The waterfalls are the major attraction of this destination. 
Staubbach Falls is the highest free waterfall in Europe. You will find mountains like the Eiger, Monch, and Jungfrau which are visible from this village. There is a hiking path underneath this waterfall which is open from June to October. 
This village has flourished with restaurants, cafes, hotels, shopping complexes, and supermarkets. You can shop for hours and explore the village marketplace. If you are not a shopaholic then, wait they have something for you as well- golf course and swimming pool. If you are a history person and want to know the history of this destination there are museums and fine art galleries all around. 
Trummelbach Falls 
This is Europe's largest subterranean caves where you will find ten glacial waterfalls inside the mountain. You can easily reach this place by catching a bus from Stechelberg railway station. As you read above this place is a must-visit spot. You will be shocked to see how the rocks around the waterfall got some quirky weird and wonderful shapes. The sound of the water is enough to make you fell in love with this place. From April to November you can come here and you will be happy to know that the entry here is free!!
Adventure Activities Hub
If you wish or are wondering to see this quaint village Lauterbrunnen from above you can do it. Yes, this place is quite known for the Paragliders. If you love paragliding you should not stop yourself from trying it here. Even if you are not a paragliding person you can enjoy the view by seeing hundreds of colorful parachutes in the sky. You can enjoy skydiving, hiking as well. 
Apart from Trummelbach and Staubbach waterfalls there are some other must visit waterfalls like Spissbachfall, Talbach falls, Staldenbachfall, Reichenbach falls, Murrenbach falls.  
Why Lauterbrunnen?
Lauterbrunnen is situated at a point where other gorgeous parts like Murren or Grindelwald are not so far. You can enjoy hiking, mountain climbing, scenic beauty, and the most important Swiss culture and local food. 
The aroma of this place is enough to give peace and serenity. You can sit there for hours and will feel like you are in heaven. With only 3,000 residents this place is far away from the crowd and bustle of city life. 
This place is a blend of Alps, waterfalls, and towering steep rock. In fact, many musicians, writers, and poets fell in love with this place and wrote many books and poetry inspired by it. 
Best Time To Visit
If you want to enjoy the activities then, April to June is the best time for you. In fact, it is the peak time when you will find a crowd over here. In winter, which is November to January you can enjoy the thick snow but you cannot move much during this period. If you haven't felt the snow this place will give you chill and experience with snow for a lifetime.
This place is blessed with gorgeous scenery and breathtaking views. You cannot resist yourself from falling in love with it. It is no less than a dreamland that the writer or poet describes in their poetry or paradise that everyone wants to explore and experience. So, plan your next visit to this gorgeous destination super soon.
More You May Like: